Now Available: Weight-By-Date Pro 3.5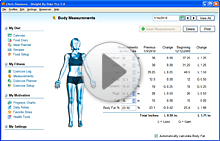 Take a Video Tour
Presented by our founder and original creator of Weight-By-Date
PLAY VIDEO
Setting a healthy goal means nothing if you can't keep yourself motivated to reach it. And losing the weight is only half the battle — keeping it off is just as important. Weight-By-Date gives you everything you need to lose weight and stay committed to your healthy lifestyle:
A weight loss calendar that gives you a clear view of how much you've lost and when you'll reach your goal.
A food diary that keeps an accurate record of your nutritional intake and helps you stay under your daily limits.
An easy-to-use health and fitness journal for tracking your exercises, activities, workouts, and body measurements.
Colorful, easy-to-follow charts that help you visualize your progress and have fun along the way.